Hope for the future: An analysis of HOPE/HÅP(E) across genres and languages
Abstract
This article reports on a contrastive study of the cognate nouns and verbs hope and håp(e) that investigates their lexico-grammatical conditions of use in English vs. Norwegian fiction texts and football match reports. The complex dataset consists of material from a parallel corpus of fiction texts and a comparable corpus of football match reports. An interesting finding is that the verb use outnumbers the noun use in the fiction texts, whereas the noun use outnumbers the verb use in the match reports in both languages. Moreover, the analysis of the lemmas suggests that they have similar potential of use but with slightly different preferences, both across the genres and languages. It is also suggested that the English lemmas are more consistently used in negative contexts than the Norwegian ones. Finally, the method of combining data from two different types of contrastive corpora proved fruitful, as the results become more robust.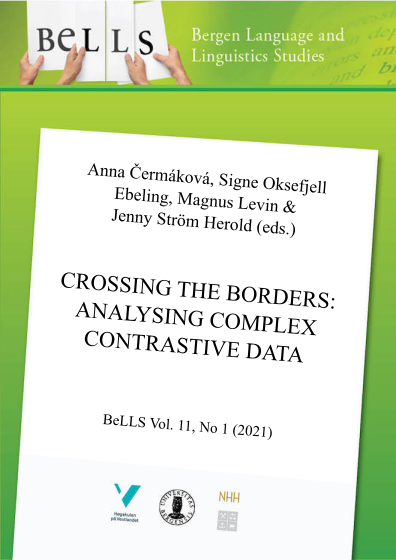 Downloads
How to Cite
Ebeling, Signe Oksefjell. 2021. "Hope for the Future: An Analysis of HOPE/HÅP(E) across Genres and Languages". Bergen Language and Linguistics Studies 11 (1):7-26. https://doi.org/10.15845/bells.v11i1.3436.
License
Copyright (c) 2021 Signe Oksefjell Ebeling
This work is licensed under a Creative Commons Attribution-NonCommercial 4.0 International License.