Preposition use in oral and written learner language
Keywords:
prepositions, oral language, learner English, spoken learner corpus, L1 influence,
Abstract
This paper concerns preposition use in oral language produced by advanced Norwegian learners of English, using primary data from an oral learner corpus (LINDSEI-NO). We investigate the frequency of inappropriate preposition use in approximately 13 hours of transcribed informal interviews, as well as the possible extent to which L1 transfer may play a role in production. The contextually inappropriate prepositions were categorized in terms of factors that may influence preposition use, with particular focus on the congruence between L1 and L2 with respect to syntactic structure and basic meaning. These results about spoken preposition use are then contrasted with results from a corresponding investigation into preposition use in a written learner corpus (NICLE), allowing for comparison of preposition usage across modes.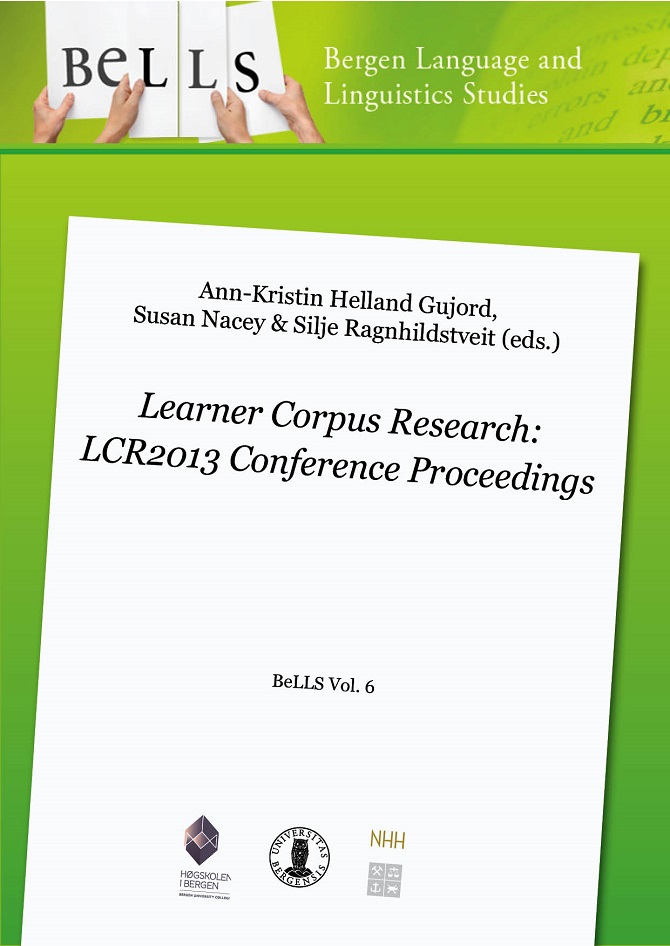 Downloads
How to Cite
Nacey, Susan, and Anne-Line Graedler. 2015. "Preposition Use in Oral and Written Learner Language". Bergen Language and Linguistics Studies 6 (May). https://doi.org/10.15845/bells.v6i0.808.
License
Copyright (c) 2015 Susan Nacey, Anne-Line Graedler
This work is licensed under a Creative Commons Attribution 3.0 Unported License.